A place for family and friends.
Haybale Heights is a family-run resort and campground situated on the East side of Devils lake, North Dakota. Offering year-round guided fishing packages, two and three bedroom cabins, seasonal campsites, boat ramp, and fish cleaning station.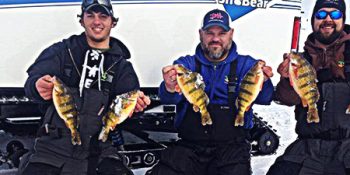 Enjoy fishing in comfort and chasing active schools of fish with the mobility of a Snobear.
"Came out and spent three nights in a beautiful trailer. With all of the features of a full-size house. Cable TV wifi accessible made me feel right at home. Spent two days on the Lake ice fishing using the snobear machines which were warm, cozy and comfortable. All of the guys are fantastic positive funny and full of jokes.... Lucas and his guides want you to have an enjoyable fishing Excursion with them and trust me you will!! I will highly recommend this place to my friends and I will definitely be back with my grandson again next year."
Jeff Meinzer
"I can't say enough good things about this place! Coming from Saskatchewan, Canada, where I never have trouble finding fishing holes I can surely say this is one of the best! Ice fishing will never be the same without riding and staying warm in the Snow Bear! Luke was a fantastic host with such a genuine heart and our guide Matt was just top dog with so much passion for the sport and people. Definitely coming back!!"
Elizabeth Montgomery
"I like what Haybale Heights has to offer you from top to bottom. We my group were here for an original 3 day 4 night package, well we are from Iowa and our time came for us to travel mother nature decided to throw us a big ice storm winter weather advisory. We had a choice leave a day early and or take the chance and possibly not be able to make up at all. So as a group we decided to come up a day early and make our trip a 4 day 4 night package courtesy of Haybale Heights. I highly recomend Haybale Heights as thee best lodge hands down with a top notch staff."
Chad Mull
"Thank you to Luke and crew for the great accommodations for our week stay in Devils Lake. The cabin was nice and clean. It accommodated six larger than average guys. Curtis checked on us daily to make sure everything was in order. I would highly recommend Haybale Heights to anyone planning to visit the Devils Lake area."
Todd Schillinger
"This is my fourth season at haybale Heights I plan on coming back for many many more, if you want to come for the weekend and get away from the everyday hustle and bustle from where you live and work come for a weekend and I guarantee you you'll have a blast, cheers!"
Terry Brashaw
"Great cabins! The family and I had a great time there! Definitely will book again."
Chuck Ulrich